Greenville Eye Surgery Consultation & Referrals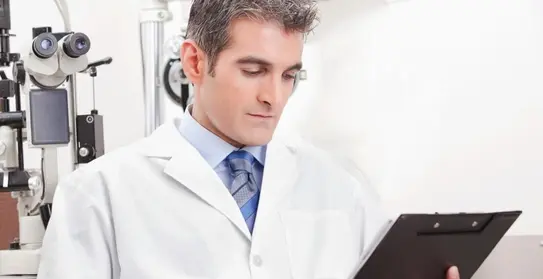 Eyeglasses were developed centuries ago and were the very first solution for vision correction. There have been numerous innovations since, including contact lenses. Hard lenses were followed by soft lenses which are now available in a range of options.

More recently, advances in technology and eye care have led to procedures that make it possible to surgically reshape the eyes. Eye surgery from a Greenville optometrist allows for fully corrected vision without the need for glasses or contact lenses.
Greenville Optometrist Brings Premier Eye Care and Eye Surgery Consultations
Eye surgery tools and techniques have evolved quite a bit over the last two decades. Today, the procedures are safe, efficient and effective. Greenville eye surgery and the use of lasers allows for corrective procedures like reshaping the cornea's surface. Artificial lenses can also be surgically implanted. Eye surgery procedures work by correcting how light enters the eye, and the result is clearer, more focused vision.

The main factor in which procedure is recommended is the condition of the cornea. Clients showing a high level of myopia usually require greater surgical measures to effectively reshape the cornea. An eye exam can determine the best course of action for each patient.
The Evolution Eye Surgery Procedures
While eye surgery utilizing lasers is now available, this wasn't always the case. Photorefractive Keratectomy, or PRK, was the first corrective eye surgery procedure to effectively change the cornea shape by removing small amounts of tissue. This process was approved by the FDA in 1995 and has been perfected over the years. PRK is still in use by some optometrists today.

PRK was followed by LASIK. With the LASIK procedure, a thin flap is cut in the outer eye covering so that the cornea can be reshaped. Results are noticeable in a few hours, whereas PRK can take days to register.

Risks and side effects of LASIK include dry eye and in some cases halos viewed around bright lights until there is full healing of the eye flap. LASIK is done with either a mechanical cutting tool, lasers, wavefront technology, or a combination of these.
Eye Surgery Can Correct Both Nearsightedness and Farsightedness
Both nearsighted and farsighted clients can benefit from Greenville eye surgery. While nearsighted vision is more common, farsightedness can be corrected using Conductive Keratoplasty, or CK. With this procedure, low heat radio waves and a small probe creates strategic spots around the periphery of the cornea, making it more "steep" to improve vision.

Some eye surgery procedures involve implanting artificial lenses. They are similar to contact lenses and can correct more advanced cases of nearsightedness. The artificial lens is fitted permanently over eye's natural lens. Another procedure called Refractive Lens Exchange (RLE) can correct extreme farsightedness by replacing the eye's natural lens completely.
Visit Our Greenville Optometrist
Vision, age, eye care needs and overall health affect whether someone is a good candidate for eye surgery. Your Greenville optometrist can provide a professional eye exam to determine the best course of action. Contact Greenville eye doctor Carolina Vision Care with your questions about eye surgery. This Greenville optometrist also serves the Outer Banks of Virginia, Farmville, Aden, and Winterville communities. Call us today to get started on your path to better vision by calling us at (252) 752-4380