Greenville Pediatric Eye Exam: Vision and Eye Coordination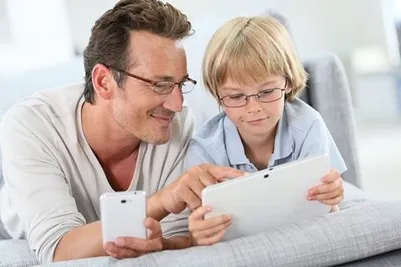 Scheduling a pediatric eye exam is one of the most important things you can do for your child's vision and future. Good vision is essential to your child's healthy development. As much as 80 percent of all learning is visual, according to the American Optometric Association, as your child reads, writes, and uses a chalkboard or a computer at school or for homework. Healthy eyes help your child learn in the classroom, perform on the athletic field and relax at home.
Greenville Optometrist Answers Questions About Pediatric Eye Exam
Our Greenville optometrist Dr. McIntosh would like to take the opportunity to answer some of your questions about pediatric eye exams.
What Time of Day is Best?
Schedule the appointment at a time of day when your child is normally alert and happy.
What Happens During a Pediatric Eye Exam?
Our Greenville optometrist performs different tests depending on your child's age but appointments usually include gathering a case history, vision testing, eye alignment testing and a general evaluation of your child's eye health. If our optometrist determines that your child's vision needs correction, we will write a prescription for eyewear.
When Should My Children Have Their Vision Checked?
Initial Visit: By the age of 6 months or as recommended by a doctor
First Follow-up: At about 3 years old
Regular Exams: Starting before first grade and annually thereafter
What happens at my Infant's First Greenville Pediatric Exam?
By six months old, your child's color vision, depth perception and focus should be as developed as yours. At your child's first Greenville pediatric exam, our optometrist will perform pupil response tests, fixate and follow tests and preferential look tests to make sure your baby's eyes are developing normally.
How Can Preschoolers Take Eye Tests if they Cannot Read?
We provide preschoolers with special eye tests that are similar to a regular eye chart, except they use apples, circles, squares and other shapes children easily recognize.
What Other Eye Tests Does Greenville Optometrist Dr. McIntosh Perform During a Pediatric Eye Exam?
Our Greenville optometrist Dr. McIntosh can perform a battery of tests to evaluate your child's eye health and vision. Random dot stereopsis uses 3D glasses and patterns of dots to help our eye doctors determine how well your child's eyes work together. Our optometrists use retinoscopy to find out if your child needs prescription eyeglasses. Other tests look for lazy eye, misalignment of eyes, inability to maintain eye alignment, focus problems, trouble with depth perception and issues with color vision.
Dr. McIntosh will thoroughly evaluate your child's eyes and eyelids. He will also evaluate the health of various eye tissues and structures, including the lens, cornea and iris inside the eye.
Schedule an appointment for your child's pediatric eye exam with our Greenville optometrist at Carolina Vision Care. Who can evaluate your children's eye care living in Greenville and to those in Aden, Winterville, Outer Banks of Virginia and Farmville.