Eye Allergy Care at Carolina Vision Care
If your eyes become itchy, red, watery, or blurry whenever you step outdoors, pet your cat, or wear your contact lenses, you may have eye allergies. Our eye doctors can diagnose the problem, recommend a course of action, and offer you the right prescription for your specific needs.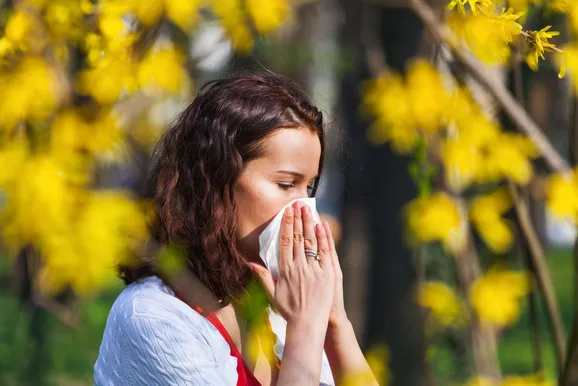 An Introduction to Eye Allergies
Common signs of eye allergies include itching, watering, swelling, irritation, and redness. Since many eye conditions have similar symptoms, it is crucial you talk to a doctor and undergo an examination -- Eye allergies can mimic some of the symptoms of other eye issues such as dry eye, computer vision syndrome, or viral and bacterial conjunctivitis.
One complicating factor is the fact that many different triggers can produce eye allergies since countless things come into contact with the eye throughout the day - from pet dander, grass, cosmetics, or even less-than-sterile contact lenses. Some people are allergic to the proteins that stick to the surfaces of soft contact lenses, while others suffer from eyelid inflammation and irritation called blepharitis.
Airborne irritants such as car exhaust or industrial smoke can cause allergy symptoms all year round, whereas, seasonal pollens, molds, and airborne organisms can bother your eyes at more specific times throughout the year.
Carolina Vision Care Can Ease Your Symptoms
Our optometrists will perform an eye exam to rule out other possible problems such as infections, dry eye or digital eye fatigue. If it is determined you have eye allergies, over-the-counter (OTC) artificial tears, prescription eye drops and antihistamines can relieve your immediate symptoms, with steroidal medications used in more severe cases. We may also recommend changes to your contact lens or cosmetics routine, physical barriers to irritants (such as sunglasses), and lifestyle adjustments to keep you away from potential allergens. Alternatively, you may just need a simple treatment such as eyelid cleansing using BlephEx, which we can perform here in our office to deal with allergic reactions that result from blepharitis, a bacterial infestation of the eyelids. Your treatment will depend on your unique situation, so talk with your eye doctor today.
Experience Eye Allergy Relief
Are your eyes feeling itchy? Improve your quality of life by calling our Greenville clinic today at 252-752-4380 for a consultation!