Eye Conditions Treated by Our Eye Doctors in Greenville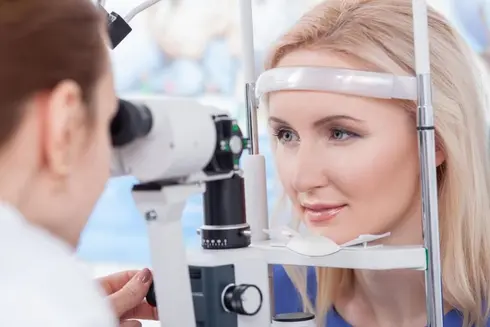 Eye conditions like infections, dry eyes and refractive errors need to be treated by your eye doctor. As your Greenville optometrist, the professionals at Carolina Vision Care provide treatment for a range of conditions that can affect vision and the health of the eye, such as:
Refractive Errors:

Nearsighted and farsightedness - Nearsighted patients cannot see distant objects clearly, while farsighted patients cannot see objects clearly when they are up close. We correct these common conditions with eyeglasses or contact lenses.
Astigmatism - Astigmatism is an imperfection in the curvature of the eyes. Astigmatism is corrected with the use of glasses or contact lenses.
Presbyopia - a natural aging process in which the eyes lose the ability to see things clearly up close. This condition occurs in all patients at or around the age of forty and is corrected with the use of eyeglasses or contact lenses.
Conjunctivitis (pink eye) - This eye infection, also known as pink eye, is a problem that occurs when the white part of the eye becomes inflamed, red, and irritated. It can be caused by bacteria, viruses, and allergies. Some types of conjunctivitis can be treated with antibiotic eye drops, although, there some types of conjunctivitis that cannot be treated and must clear up on their own.
Blepharitis - Blepharitis is characterized by bacteria and skin flakes seen on the eyelids. Blepharitis causes itching, redness, and irritation on the eyelid margin and can lead to the formation of a chalazion ("stye"). Blepharitis may be treated with special shampoos, lid scrubs, and cleaning procedures such as "BlephEx" offered exclusively at Carolina Vision Care
Cataracts - Cataracts are a condition characterized by the clouding of the lens on the inside of the eye. Cataracts may be treated with surgery.
Dry Eye - This condition causes chronic redness, itching, and burning sensation of the eyes. Dry eye can be treated with improved lid hygiene, artificial tears, and prescription eye drops. Lifestyle changes can also help patients suffering from dry eye, such as smoking cessation and increased water intake.
Eye Allergies - Eye allergies affect many adults and children. Exposure to pollen and other allergens can lead patients to experience dry, itchy, red eyes. Eye allergies may be treated with lifestyle changes, eye drops, and consultation with an allergist.
Strabismus - Strabismus is a condition characterized by a misalignment of the eyes. Also known as "crossed eyes," strabismus is often corrected with special eyewear or a patch. In some cases, this condition is treated with vision therapy and/or surgery.
Amblyopia - This condition occurs when one eye is favored over the other eye. Also known as "lazy eye", amblyopia is treated with patches, eye drops, and other vision therapy techniques.
Keratoconus - Keratoconus is a condition that occurs when the cornea, the dome-shaped tissue that covers the eye, becomes cone-shaped. This condition may be treated with eyeglasses, contact lenses, or surgery.
Offering a Range of Services
At Carolina Vision Care, we offer a wide range of services for patients in Greenville, NC. From routine eye exams to eyeglasses and contact lenses, to medications, we help patients manage their conditions and maintain healthy eyes.
Contact Carolina Vision Care for an Eye Exam near Greenville
We recommend seeing the eye doctor near Greenville for exams on an annual basis. If you haven't seen your eye doctor yet this year, contact us for an appointment today at (252) 752-4380.