Our Greenville Eye Doctor Discusses Macular Degeneration
Vision loss associated with macular degeneration affects more than 10 million people in the United States, according to the American Macular Degeneration Foundation, more than glaucoma and cataracts combined. Macular degeneration is the leading cause of vision loss in the nation and many people do not realize they have the condition.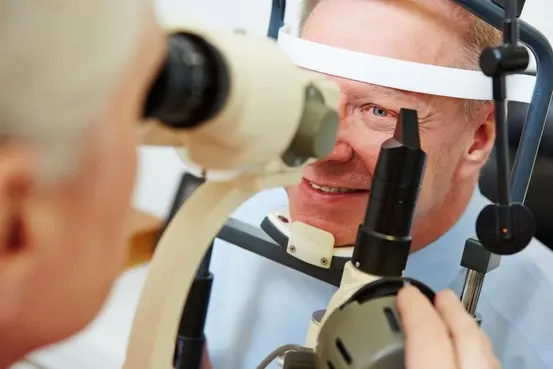 To understand macular degeneration, it helps to know about how the eye works. Light carries information about the outside world into the eye. The light strikes the retina, which is the interior lining at the back of your eye. Your retina converts the information about the images you see into electrical impulses that the optic nerve transmits to your brain, which processes the impulses.
Macular degeneration affects the macula, which sits at the center of your retina. Your macula is responsible for "straight ahead" or central vision, like that used to read a book or drive a car. It helps you see fine details clearly.
Macular Degeneration Causes
Macular degeneration causes include the formation of deposits, known as drusen, beneath the retina. The growth of abnormal blood vessels under the retina may also cause macular degeneration.
There are two types of macular degeneration. Wet macular degeneration is a condition where abnormal blood vessels grow beneath the retina. These blood vessels frequently leak blood and other fluids, which damage the macula. Dry macular degeneration occurs when the macula breaks down.
Eye doctor in Greenville Discusses Macular Degeneration Symptoms
The wet and dry forms of macular degeneration cause different symptoms. Our eye doctor would like you to know these symptoms.
Dry macular degeneration may cause:
Blurry vision for distance and/or reading
Need for very bright light for good close-up vision
Colors that appear duller or darker
Hazy vision
Difficulty seeing when going from bright light to low light
Trouble or inability recognizing people's faces
Blank or blurry spot in your central vision
Wet macular degeneration may cause symptoms such as:
Distorted vision where straight lines appear bent, irregular, or crooked
Dark gray spots or blank spots in your field of vision
Loss of central vision
Size of objects may appear different through each eye
Colors seem less vivid than before
Colors do not look the same for each eye
Greenville Eye Doctor Describes Macular Degeneration Treatment
Macular degeneration is incurable, which means treatment cannot restore lost vision. Macular degeneration treatment from your eye doctor near Greenville can, however, slow the progression of the disease and halt vision loss. Macular degeneration rarely causes total blindness. People with advanced macular degeneration have useful peripheral vision to the side.
Contact Our Local Greenville Optometrist for More Information Today!
If you have macular degeneration, or you want to learn how to reduce your risk of developing AMD, or other eye diseases, make an appointment to see our optometrist at Carolina Vision Care. Our office is conveniently located at 1804 W Arlington Blvd in Greenville, NC. Make your appointment today by contacting us at (252) 752-4380.