Carolina Vision Care : Senior Eye Examination
At a time when they might not make appointments as frequently, seniors need regular eye exams more than anyone else. While eye problems can strike at any age, seniors are more likely to suffer from glaucoma, cataracts, or macular degeneration than any other age group. Increased disease risk in addition to the constant problem of changing eyesight makes it crucial for seniors to schedule an eye examination yearly once they reach the age of 60.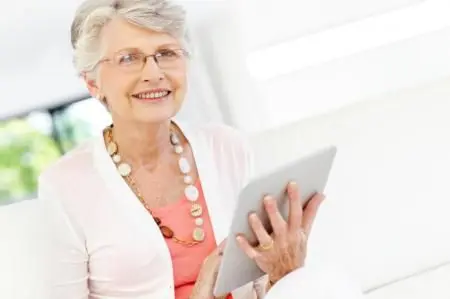 Senior Vision Screening
In addition to the normal vision screening, our Greenville optometrist will examine your eyes for:
Cataracts More than half of all adults age 65 and older have cataracts, but many of them have cataracts before they affect vision and lifestyle. Early detection is the key to care
Glaucoma As pressure builds up inside the eyeball it can begin to affect eyesight. If left untreated, glaucoma can lead to blindness
Age-Related Macular Degeneration The affects the ability to see fine detail including straight lines and colors
Ocular Hypertension Often the precursor to glaucoma, this condition doesn't necessarily mean you'll get it, but treated early it can reduce the risk
Greenville eye care for seniors also includes helping you to deal with vision problems related to the normal aging process in your eyes. Colors may not be as vivid and you may have trouble distinguishing between related shades. Your eyes may be drier, or they may produce more tears than they used to. Glare may bother your eyes more, or you may need a stronger light source in order to see clearly enough to read.
Greenville Senior Eye Exam Procedures
Your eye examination will begin with the typical eyesight screening, using the common eye chart with letters that you're probably familiar with. If our doctor finds that your prescription has changed, Dr. McIntosh will check to determine your correct prescription to correct your eyesight back to normal. This can take a few minutes, especially if you are dealing with bifocal lenses or special glasses for computer use, but it's important for finding the right eyeglasses for your vision problems.
We may need to dilate your eyes in order for the doctor to examine the interior more clearly. Often we can find cataracts or other interior defects that might otherwise be hidden, just by looking into dilated eyes. You'll place your chin on a stand while a puff of air is directed toward your eye. This measures the pressure in your eyeball, testing whether you have a problem with glaucoma building. The doctor will also check the ability for your eyes to track a moving object, as well as your eyesight in each individual eye separately.
If you live in the Greenville, NC, area and you haven't had an eye exam in over a year, call Carolina Vision Care at (252) 752-4380 . We'll make an appointment to get you on your way to having great eyesight and healthy eyes.